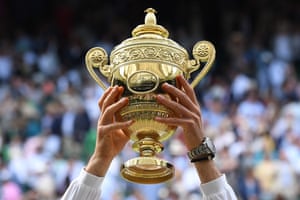 What a day it was at London today where two finals were being played: The ICC World Cup 2019 Cricket between England and New Zealand, and the Center Court of the Wimbledon where the men's single final between two tennis giants was paled between second seeded Roger Federer and defending champion Novak Djokoivc. The last time both met was at Wimbledon 2014 when Djokovic beat Federer in the final. Federer won the 2017 Wimbledon beating Marin Čilić of Croatia.
I was divided between the two finals but was more focused on the Wimbledon to know whether Federer, the aging yet extremely in shape Spaniard wins his 9th Wimbledon title or not. The first set was contested very hard and the Serbian finally managed a hard earned
7(7) - 6(5) win. But Federer fought back and had a easy 6-1 win.
And from then on it was game of guts, stamina and fitness. None seemed to be giving in till the end. But it had to come to an end in favour of the defending champion who finally won over Federer 7(7)-6(5), 1-6, 7(7)-6(4), 4-6, 13(7)-12(3).
What a final it was and both players need commendation for providing so much thrill and world class match to the spectators all over the world.
References | 1 | 2 | Photo: Novak Djokovic raises the winner's trophy. Photograph: Ben Stansall/AFP/Getty Images
If you like Jaho Jalal, please follow us on Facebook
Follow @JalalsPages